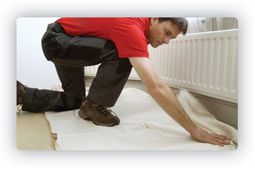 How often do I need a powerflush?
If the system has been looked after with inhibitor being topped up yearly, most systems only need powerflushing every 5-6 years. Certain systems have design faults that can cause air to be drawing resulting on the system corroding faster therefore needing more frequent flushing.
How long does a powerflushing take?
Unless otherwise agreed our Engineers arrive and start at 8.00am. Depending on the size of the system being Powerflushed and additional works, such as fitting Thermostatic Radiator Valves, jobs are generally completed between 2pm and 7pm.
Do you guarantee your work?
Yes we do guarantee our work. After powerflushing we issue a certificate to confirm cleanliness and pH levels within your system conform to industry standards and that an appropriate rust inhibitor has been added.
Do I need a powerflush if I am getting a new boiler?
YES, for your boiler manufacturer to guarantee the boiler they need to know that your new boiler is being installed into a clean system. We will issue you with a certificate stating that the system has been powerflushed.
If I am changing my radiators do I need to powerflush?
YES it will still be beneficial as you are putting new radiators onto the existing sludged up pipework, so after the new radiators are installed, we will flush out your system and balance all of your radiators to help you with getting the maximum efficiency out of the system.
Can an old system be powerflushed?
YES, our equipment uses less pressure than the mains water so does not risk your system and by powerflushing old systems it keeps your heating more fuel efficient.
Can a powerflushing cause leaks?
Only if a fault already exists such as a radiator rusted through. It is far better for an on-site Engineer to deal with a leaky radiator in a controlled way than for a leak to occur randomly maybe while a house is empty during a holiday.
Can microbore or single pipe systems be powerflushed?
YES, being a specialist company we have a lot of experience and knowledge with unusual systems and our engineers are fully equipped ready to face the more challenging of systems.
Do you need to be Gas Safe registered to powerflush?
NO. As the engineer is there to remove the dirt from the system NOT work on the gas, he does not have to be gas safe registered.
Can I rent a powerflush machine and do it myself?
When renting a machine it does NOT come with magnets, which is one of the man tools to get the sludge out. Powerflushing is a science, unless you are a plumber, no video on the internet will teach you everything you need to know and experience cannot be taught.
What powerflushing machines do you use?
In short - Kamco. But the most important tools are the engineer's brains and enthusiasm.
We ensure that for each job we achieve the best result possible by understanding the problem and using the specialist experience we have. We use the most appropriate chemicals, Magnet Filters, SDS Vibra Clean to ensure that a thorough job is done and we use Infrared Thermometers, TDS and pH meters to ensure we continue each stage of the process until we achieve results meeting industry standards. By using a methodical scientific approach we can pinpoint the problem areas and concentrate on them to achieve the best overall results for your system.
Do you have insurance?
Yes, £2,000,000 public liability